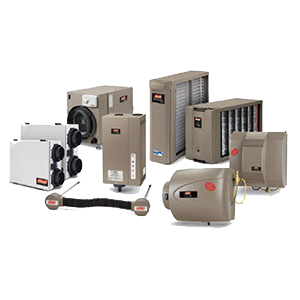 Humidifiers work in tandem with your heating system to deliver desired humidity levels throughout your home. Maintaining proper humidity levels in your home is essential to maintaining indoor comfort during the winter months. Moderate humidity levels make you feel warmer at lower temperatures, which means you can set your thermostat lower without sacrificing comfort.

Depending on the size of your home, we offer a variety of humidifiers to deliver the right amount of moisture into the air. Sizing of humidifiers is measured in Gallons Per Day (GPD), and we offer models from 12 GPD to 18 GPD.
Humidification Product Offering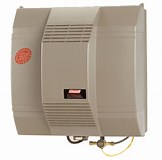 18 GPD Whole Home Fan Powered Humidifier
View Brochure
Model Family: S1-FP******
Capacity: 18 Gallons per Day
Sound Level: Quiet operation
Warranty: 5-year limited warranty
Manufacturer's Stated Benefits:
Wards off bacteria, viruses and fungi while reducing allergic and asthmatic reactions by maintaining proper humidity levels.
Works with your existing HVAC system ducting
Uses an internal fan to move warm air from the furnace through the humidifier.
Optional automatic humidifier controls available
Extremely low maintenance.